Haar van Boven has been a household name in Rotterdam for many years.
We started in 1984 at De Meent and we have been located at De Witte de Withstraat 42bn for more than 25 years now, in a wonderful monumental building which dates from 1894.
It has been a conscious choice to have a hairdressing salon in the heart of the centre. You can easily see what's happening outside and keep contact with the city. We simply follow new trends by looking outside and making observations.
De Witte de Withstraat used to be known for its rough nightlife, nowadays it is one of the trendiest streets of Rotterdam where renewed and creative trends are launched. It is one of our sources of inspiration.
They aren't hairdressers, but sculptors. In a pleasant atmosphere they will wrap your hair around your face, creating bigger eyes, a smaller nose and fuller lips. You can be yourself. If you like to chat, you can have a good conversation; if you are tired and want to settle down, we will remain silent, so you can day-dream under their skilful hands.
"A visit to Haar van Boven is a real treat! I love to go there and my hair has been cut very professionally for about 25 years now. Extremely friendly service. My hair keeps its shape for a couple of months. I think it is important your hair suits you in terms of colour and model. Haar van Boven pays close attention to this. So, if you are not sure what colour suits you best, this is the right address for advice. Once you are a customer, you will continue to return."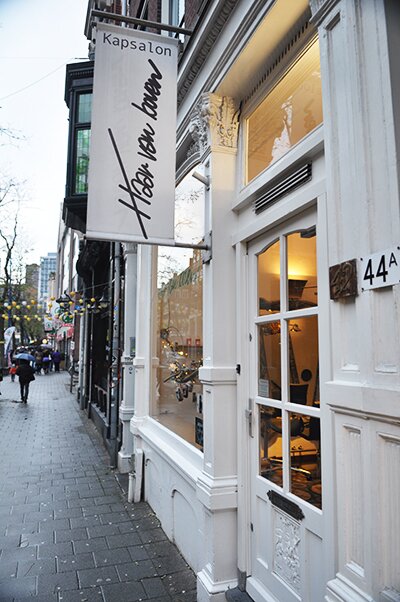 Opening hours
Tuesday 09.00 am – 06.00 pm
Wednesday: 09.00 am – 06.00 pm
Thursday: 09.00 am – 06.00 pm
Friday: 09.00 am – 06.00 pm
Saturday 09.00 am – 4.00 pm
Call us for an appointment
010 – 413 88 77